---
Dealer Suite Registration Instructions
You should have received an account activation email from azsg@sazbsmtp.clearlake.ibm.com.
Please follow the link on that email to activate your account, then refer back to this email.
Once you activate your account, you should be on a page titled " Accessible Applications"
If you are not at the website, you can enter the following address on your internet browser address line: secure.servicearizona.com (Note : the address does not use 'www')
If you are at the correct Website, you will see: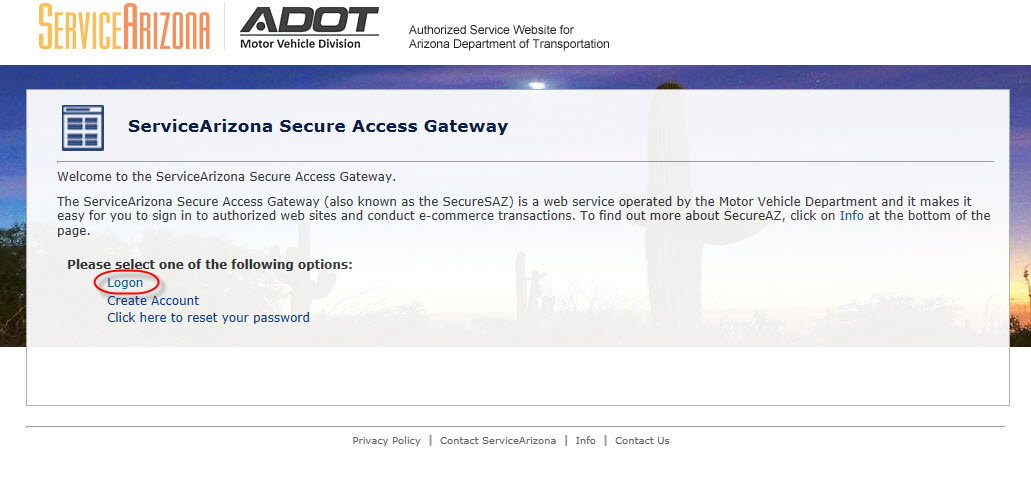 Select logon to mySecureAZ account. Enter your email address and the password you created when you activated your account. This will take you to the Accessible Application page.


Click on the blue 'Register' tab.


Select Dealer Services from the drop down list and click on Submit. ( Note: Do not type anything into the 'Enter App Code Field'.)
The application Access Screen will display, Type your Dealer # and Pin # in the spaces (boxes).
Read the terms and conditions as you scroll down the page. At the bottom of the page, click the box that indicates you have read, understand and agree to the terms. When this is completed, click on submit. Wait a few seconds and a successfully completed message will display. Wait a few more seconds and focus will return to the home page.
Logon to mySecureAZ. This time you will see MVD-Dealer Services listed under Accessible Applications.
Click on MVD-Dealer Services to access EZ Dealer Services. If you need further assistance, please call the number below.
Assistance Desk
1-866-436-9533