The VIN plate mounted to the dashboard on the driver's side of the vehicle
The Vehicle Registration Renewal Form or
The Insurance Card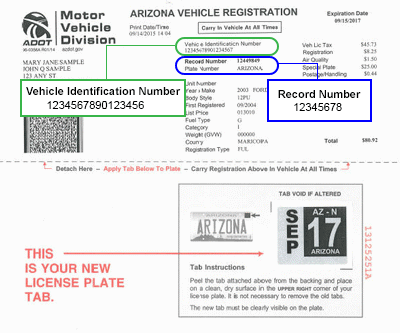 Welcome to the Vehicle Inspection Appointment system.
Customers who require a level 2 or 3 VIN Inspection are required to provide the vehicle owner / operator and the vehicle information to complete this online inspection application.
A level 1 vehicle inspection does not require an appointment.
For vehicle emission testing, visit https://myazcar.com/.
Only the scheduled vehicle, provided on this application will be inspected; no vehicle substitutions.
No walk-ins/standbys/first come first served; only online schedule appointments will be seen.
Arrive 15 minutes prior to scheduled appointment time. Vehicle inspections will not be completed if not checked in prior to appointment.
No Cash Accepted. We take all major credit / debit cards, except for American Express.
If you already have an appointment and want to review it or cancel it, click here.